Each winter, the Kendalwood Montessori and Elementary Community comes together in the spirit of the season to support Durham families in need. Kendalwood staff, our students and their families team up make the season a little brighter for less advantaged children. For the past five years, we have worked with Simcoe Hall Settlement House to provide sponsorship at Christmastime. The tradition continues in 2014!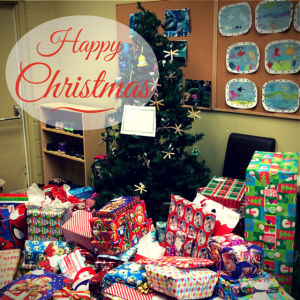 The Kendalwood Giving Tree is our customary way of coordinating the Christmas sponsorship program. A tree filled with special ornaments greets students and parents at each entrance of the school. Kendalwood families are invited to select an ornament which includes details about the family we are sponsoring, along with items they need or other special requests from their wish list. Items listed on the ornaments are then purchased, wrapped and returned to the school using the ornament as a gift tag.
Simcoe Hall Settlement House is a not-for-profit community resource centre dedicated, since 1935, to assisting less advantaged children, families and vulnerable adults whose lives are affected by poverty.
In addition to the gift collection for sponsored families, Elementary classrooms hold a bake sale where the children work together to prepare a delicious treat, cookie or square and then offer their wares for sale at the school. Students use the proceeds to purchase essential items for the Simcoe Settlement House food bank. It is a true experiential learning process for the children as they visit a local grocery store to purchase necessities for families in need, such as baby formula, diapers and food staples. It is an opportunity to learn about shopping on a budget and gain a better understanding of the amount of food a family requires for a week or a month. Each year, this field trip helps our students gain important perspective on what they consider to be the necessities of life.
The Kendalwood Giving Tree is not only an act of charity, but a larger community service initiative in which our students actively participate. The authentic experience gained by taking part in the annual sponsorship program gives students insight into the needs of others and provides invaluable character education which is so important to us at Kendalwood Montessori.
Today, our students and staff will personally deliver their contributions of gifts, grocery store gift cards and and food bank donations to Simcoe Hall Settlement House. They will also tour the facility and volunteer in the food bank. We couldn't be more proud of our staff and students!
A special thank you goes out to the entire Kendalwood community for participating in the wonderful tradition of the Kendalwood Giving Tree.
http://www.kendalwoodmontessori.com/wp-content/uploads/2014/12/giving-tree.png
512
1024
Editor
http://www.kendalwoodmontessori.com/wp-content/uploads/2019/05/Kendal_Transparent-300x150.png
Editor
2014-12-12 09:52:55
2014-12-12 09:52:55
The Kendalwood Giving Tree